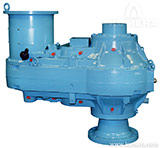 Kumera SF-, SG-, E-Series – High External Loads Gearbox Range
The SF-, SG-, E-gearbox series are specifically designed for vertical shaft applications with high external loads. These ranges include in total 30 gear unit sizes, which are optimally divided to meet required torque ranges, ratios and shaft end load requirements.
The output shaft, bearings and housing are designed to withstand high external loads. The E-series gearbox can be equipped with a flanged output shaft to achieve the highest possible load capacity and bending stiffness.
The SF- and SG-series are equipped with lip seals. E-series gearboxes are equipped with drywell seals on the output shaft and labyrinth seal on the input shaft to ensure maximum usability.
The gearbox can be connected to a structure with a standard cast iron connection foot or an easily customizable plate foot to maximize versatility in final assembly.