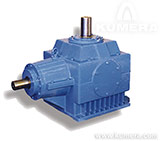 The KA and RA gearbox series are specially designed for fast rotating shafts such as pump applications. One stage bevel gearboxes are normally used when the shaft line has to be turned to a 90 degrees angle.
The gearbox housing design allows both horizontal and vertical shafts.
The range includes 10 gearbox sizes, which are optimally divided to meet required torque ranges and ratio requirements. 
High accuracy spiral bevel gears can be manufactured either with lapped or ground teeth depending on the rotation speed and load conditions. 
The gearbox can be easily connected to a central lubrication system or gearboxes can be delivered with a separate lubrication unit.